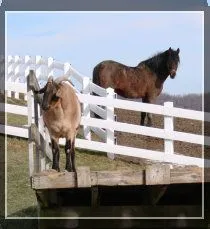 We only provide emergency coverage to our current clients.
Large animal on-call time is split between our two large animal veterinarians at the Groton City Animal Hospital (Dr. Kathy Baxendell and Dr. Katherine Dart). Our veterinarians are here to help you whether you just need phone advice or need an emergency farm call. In case of an emergency, please call the office at (607)898-4482. Please do not use any other numbers for emergencies (ie. personal cell phone numbers) as you may not reach the correct doctor on call and necessary emergency care or advice may be delayed.
Please reserve the after-hours service for emergencies only.
Our staff is working hard to answer calls and to provide care for those patients with medical conditions of an urgent nature. If you have a non-urgent message you may leave a voice-mail
message or call us back during our regular office hours.
After hours, a doctor will promptly return your call after you leave a message with our answering service. Be sure to give the service operator your name, a phone number where you can be reached, and a brief summary of your emergency. You must give the operator at least some idea of the nature of your call as we cannot respond to calls without a reason. Please give the operator any numbers that you can be reached at including a barn number if your horse is boarded at place other than your home address. After leaving your message, please try to leave your phone line open for the next 10 to 15 minutes so that our doctors can reach you. If you do not hear from the doctor in 15 minutes or so please call the office again. Please remember that we may be in the middle of treating another emergency when you call and may not be able to call you back immediately but will get in touch with you as soon as we can. If you are able, assessment of your animals vital signs including temperature, heart rate, respiratory rate, gut sounds and gum color are helpful information to provide to the doctor when they call. This information helps the doctor assess the severity of the problem that you are experiencing with your animal.
In the event that our doctors need to come out on emergency, please let the Doctor know where your animal is currently being stabled. Before the doctor arrives at your farm, clear a work space for the doctor and patient. Providing a clean, well lit area to work is ideal, but at least dry and out of the wind will work in a pinch. Set up extra lighting if needed and consider having an extension cord handy for clippers or an extra light.
Most important while waiting for help, keep yourself safe. Horses that are painful (i.e. colic, birthing difficulty) can be very violent when reacting to pain. Our veterinarians are not equipped nor do they want to treat human patients!
In the event that the two large animal veterinarians are unavailable, there will always be a back up veterinarian that will be set up to cover emergencies for our clients. Drs. Jeff LaPoint and Meagan Cox are the veterinarians that you may hear from in this situation.
Our emergency service is designed to provide high quality care in the event of an emergency with your animal in addition to giving our veterinarians and technicians more valuable time with their families. We thank you for your understanding and welcome any suggestions.
Drs. Kathy Baxendell and Katherine Dart And the staff of the Groton City Animal Hospital
Examples of Extremely Urgent Emergencies:
Mare or other female animal in labor and unable to deliver
Uncontrollable abdominal pain (colic)
Broken limb or acutely non-weight bearing on a limb
Severe bleeding that is not controlled with pressure
Animal down and unable to get up or animal trapped in trailer, stall or fence.
Examples of Urgencies or same day type emergencies
(please call ASAP to consult with one of the veterinarians):
Swollen, cloudy or painful eye
Severe, watery diarrhea
Laceration or severe trauma
High fever especially with loss of appetite
Mild colic that has not resolved in 45 to 60 minutes
Weak foal or cria, especially if it is not able to get up to nurse
Retained placenta (greater than 4 hours since delivery)
Choke (esophageal obstruction) that has not resolved in 30 minutes
Sudden loss of coordination or balance
These are only guidelines. Please do not hesitate to contact the office if you are unsure about the nature of your concern. We would much rather see an animal early on than try to patch up a train wreak.